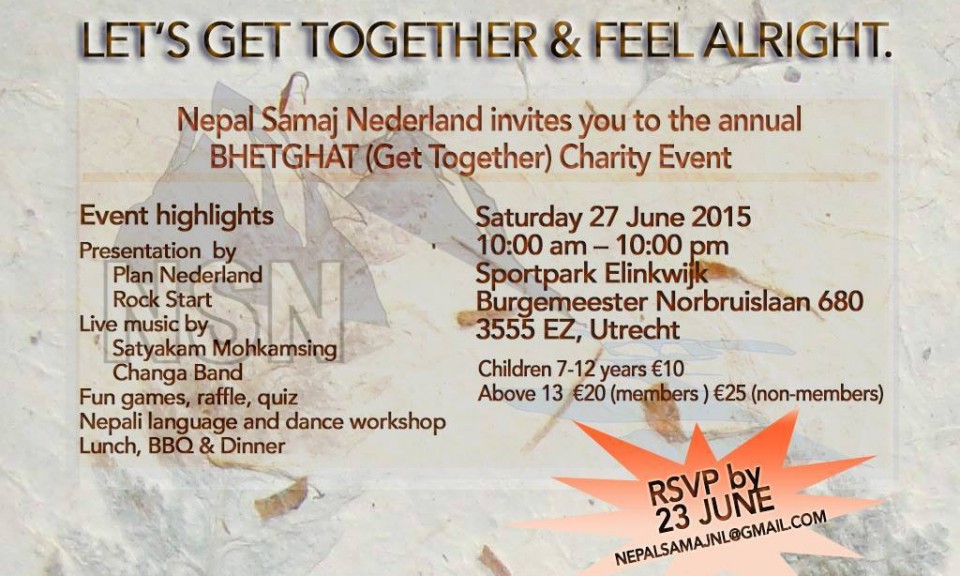 Nepal Samaj Nederland would like to welcome all Nepali's and friends of Nepal for a Get Together ('Bhetghat') on 27 June 2015 in Utrecht.
Because of the present situation in Nepal due to the earthquake, we decided to change our annual Picnic/Bhanboj into a Get Together/ Bhetghat Charity Event. On this one day event we like to be together, support each other in this difficult time, share our love for Nepal and enjoy each other's company with some nice food and games for the kids. A presentation will be held by Plan Nederland and other organizations about the aid in Nepal. Also there will be a special corner to sit respectfully and light a candl…e for all victims of the earthquake.
Bhetghat/Get Together:
Date: Saturday 27 June 2015
Time: 10:00 am – 10:00 pm
Location: Sportpark Elinkwijk, Utrecht
Address: Burgemeester Norbruislaan 680, 3555 EZ, Utrecht
Activities (more info will be added in the coming weeks):
10:00 am: welcome with coffee and tea
12:00 – 01:00 am: lunch
01:00 – 04:00 pm: games for the kids (and anyone who likes to join)
02:30 – 03:30 pm: presentation Plan Nederland, Rock Start and others. (will be conformed ASAP)
03.30- 05.30 pm: Beautiful Live music in Violin and Tabala from great artist Satyakam Mohkamsing
05:30 – 06:30 pm: barbecue and dahl baat
07:00 – 07:30 pm: coffee and tea
07:30 – 10:00 pm: informal socializing with camp fire and Nepali live music
10:00 pm: end of the Bhetghat
The proceeds of this program go to earthquake victims (farmers) in Kavre District in Nepal. We have good and reliable partners there to help us. Coming month is very crucial for the farmers, because if they don't plant the seeds now there will be a big food shortage after couple of month. The farmers lost their houses and the seeds due to the recent big earthquake.
Entrance including food, tea/coffee,
Children 0 – 6 years free entrance
Children 7-12 years €10
13 years and above €20 (members )
13 years and above €25 (non-members)
People who decide to become NSN-member this day can enjoy the discount right away. Membership contribution is €20 per year per household.
Please submit your participation at latest on 23 June by sending an email to nepalsamajnl@gmail.com