BHETGHAT – Get Together & Charity Event 2015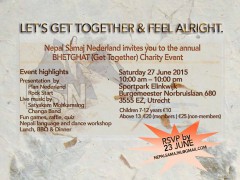 Date: Saturday 27 June 2015
Time: 10:00 am – 10:00 pm
Location: Sportpark Elinkwijk, Utrecht
Address: Burgemeester Norbruislaan 680, 3555 EZ, Utrecht  For more info click here
Official handover statue of Buddha from Nepali ambassador to mayor of municipality Delft.
Date: Sunday 12 April 2015, time: 15.00 – 17.00,
Address: Rotterdamseweg 205, 2629 HD Delft
Nepal Conferentie 2015
Datum: Zondag 12 april 2015
Tijd: 13.00 tot 18.00 uur
Adres:  Wijkcentrum de Vleugel, Aart van der Leeuwlaan 4, 2624 LD Delft
Wordt georganiseerd door: Consulaat Generaal van Nepal, NSN, VNN en ICFON
Thema: "Onderwijs……….en wat dan? De rol van ondernemerschap".
We denken hierbij aan wat jongeren in Nepal kunnen doen ( na hun SLC) en wat daarin de rol van ondernemerschap kan zijn, in de breedste zin van het woord ( dus ook boer worden of naaister).
Veel jongeren hebben (mede door de modernisering van de maatschappij en door het goede onderwijs dat zij dankzij de inspanningen van o.a. Nederlandse organisaties krijgen) hoge verwachtingen van hun toekomst.
Echter, de praktijk is weerbarstiger:
De mogelijkheden voor 'White collar ' banen of (na de universiteit) een wetenschappelijke baan zijn dun gezaaid. Veel jongeren koesteren, mede door de beperkte mogelijkheden na hun opleiding,  de droom van goed geld verdienen in het buitenland. Dit blijkt vaak tegen te vallen en bovendien creëert het geen banen en onderneming in Nepal zelf. Daarnaast heeft dit fenomeen ook grote onthechtende gevolgen voor de gemeenschap.
Hoeveel baat zouden zij niet hebben bij goed en gericht beroepsonderwijs?
Hoe dit te faciliteren en te stimuleren?
Volledige dagprogramma wordt binnenkort geüpdatet!