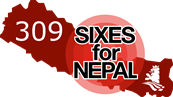 309  Sixes : 1854 Euros (Updated Jun 8th)
"Sixes for Nepal" is an initiative set forth by the KNCB and the Dutch cricket community to contribute to the relief efforts after the earthquake in Nepal. Starting from May 3rd, the first day of the 2015 Dutch cricket season, for every six in all matches in the Topklasse, Hoofdklasse, T20 competitions and internationals, the KNCB will contribute 6 euros towards relief efforts in Nepal. This initiative will run throughout the 2015 cricket season, expecting to raise an estimated 5,000 euros in total.
—————————————————————–
De KNCB zal als Nederlandse cricketgemeenschap een bijdrage leveren aan de hulpactie voor de slachtoffers van de aardbeving in Nepal. Vanaf komend weekeinde, bij de start competitie, zal het KNCB bestuur iedere ZES in de wedstrijden in de Topklasse, Hoofdklasse, T20 competitie en de internationale wedstrijden honoreren met 6 euro voor de hulpacties. Deze actie loopt gedurende de gehele competitie 2015. De verwachting is dat hiermee tenminste 5.000,- euro zal worden bereikt.
Er is in eerste instantie bewust gekozen voor de wedstrijden in Topklasse, Hoofdklasse en T20 waar bondsumpires en gekwalificeerde scorers actief zijn. Elk initiatief in het verlengde van deze actie bij andere clubs is natuurlijk welkom! Laat u niet weerhouden met plannen te komen om dit tot een actie van de totale Nederlandse cricket gemeenschap te maken! Via de KNCB communicatie kanalen zal wekelijks de stand worden bijgehouden.